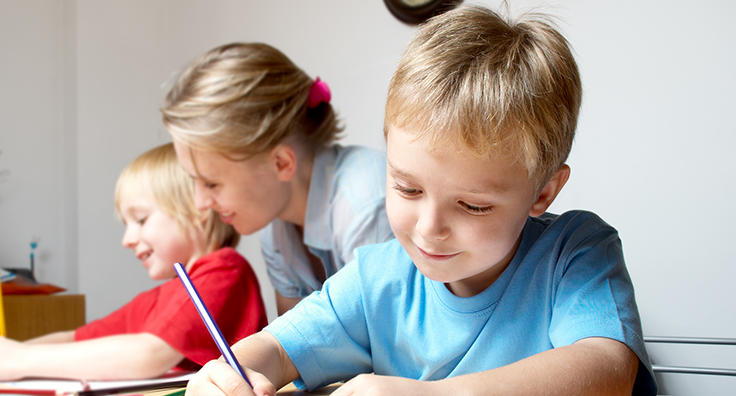 Our Mission
The purpose of Bellstone Christian School is to educate God's covenant children to be thankful, humble, discerning kingdom citizens who shine as lights in the world by serving their Lord and their neighbour.
Educate
At school children develop in many different ways: spiritually, socially, emotionally and, of course, intellectually. At the same time, the primary focus of our school is to educate children. We are thankful to be able to do this within the well-known triad of home-church-school. Our school's focus is to assist parents in raising their children and fulfilling their baptismal promises, in particular by providing a carefully-planned curriculum that is based on God's Word and faithful to the Three Forms of Unity. Education on the basis of Scripture is not something that is restricted to Bible, Memory Work, and Church History classes, but permeates all of the instruction given at the school.
God's Covenant Children
In order to teach our students well, we need to be aware of who they are. Although they are certainly citizens in this country and children of their parents, above and before all else they are God's children whom he has graciously brought into his covenant of grace and love. This means it is a great privilege and joy to teach them. It also means that, to the best of our ability, we will instruct all of God's covenant children, paying attention to the particular talents and challenges that our Father in heaven has given to each one of his own children.
Thankful
God's overflowing grace should make all of us, including our students, abundantly thankful. This fallen world abounds with greed, selfishness, and animosity. Covenant children, sanctified by grace in Christ, ought to portray a fundamentally different attitude. As an entire school community our goal is to remember, both now and in the future, just how undeservedly blessed we are, and upon remembering this to thank our Lord in deed and word, especially sincere prayer and heartfelt songs of praise.
Humble
Even as our Saviour "came not to be served but to serve" (Mark 10:45), so also God's children should be humble, always ready to serve. The world is full of "selfish ambition and conceit," but by God's grace we strive to train our students to count others more significant than themselves (Phil 2:1-11).
Discerning
Our children are growing up in a world that often ridicules and sidelines the Christian faith. This opposition is at times overt but can also be subtle. Therefore, especially as the children enter the upper grades of elementary school, we must equip them to "test the spirits" (1 John 4:2) and "make the best use of the time" our God has given us (Eph 5:16).
Kingdom citizens
While he was here on earth, our Lord Jesus Christ preached the "gospel of the kingdom" as he travelled from town to town (Matt. 4:23). Now that he has ascended to the Father's right hand, he is the King who rules over all—his kingdom extends from sea to sea and to the ends of the earth (Ps. 72:8). For this reason, wherever our students may go and whatever they may do, both now and as they grow up, they need to be conscious that their King calls them to serve him with all the talents he has given them. Teachers at our school will aim to impress this truth upon their students and model it for them.
Shine as lights in the world
By nature we and our children are "children of wrath" (Eph 2:3) who stumble in the darkness, but God who is rich in mercy has shone the light of his salvation into our lives, and even made us "children of light" (Eph 5:8). This is the Lord's doing not ours; therefore, we have every reason to radiate the love, grace, and truth of the Lord to all those around us, both believers and unbelievers. Although our students still struggle with their own sinful natures, they will be encouraged to shine as lights in the midst of this dark and corrupt world (Phil 2:15).
Serving the LORD and their neighbour
The combination of "the LORD" and our "neighbour" reminds us of the way in which Christ summarized the law with the twofold command to love (Matt 22:37-40). This ties in directly with our goal to instill a spirit of thankfulness in our students. In Scripture both thankfulness and love are not only attitudes but also actions. This is why we emphasize service, which is humble action for the benefit of the other rather than the self. In the first place, Christ commanded us to serve our LORD, out of love and in accordance with his law. Immediately thereafter he instructed us to turn our attention to serving our neighbour in a kind and thoughtful manner as well. Since "all the Law and the Prophets" depend on these two commandments, it is only fitting that a Christian school, based on God's Word, would seek to cultivate this kind of servant-attitude and serving-action among its student body.